Corn, you say?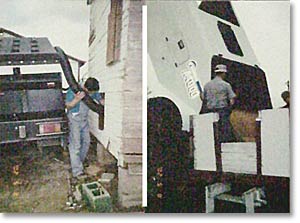 Monty Beals is president of Iowa Services, Inc., based in Colfax, Iowa. He sent us this story item of an unusual usage for his street sweeper.
Here in Iowa farming country we've had some interesting uses for our sweeper. This one, however, was a first.
My father-in-law had a dilemma: He was tearing down an old barn, but inside it was a grainery that was full of corn that had been there for the horses. His problem was that the corn had to come out prior to him dismantling the structure. Unfortunately, there was no way to get an auger in there to get it out in the normal fashion. I suggested that we see if the corn could be sucked out with the hand hose on my Schwarze A4000 street sweeper, since that's basically what we do when we do catch basin cleaning.
I drove the sweeper up to the barn and we cut a hole for the hand hose tube to fit through. From there it was just a matter of putting the other end into the corn. The suction power of the sweeper emptied the silo in no time flat.
Previously, we'd contracted out to use the sweepers to clean up spills of various types of grains for companies like General Mills, but this was the first time to use the sweeper in an actual farm-based situation.
This article is reprinted from American Sweeper magazine, Volume 9 Number 1, 2003.
---
If you have a story you think readers might like to see, please send us an email to editor@worldsweeper.com.