Saga of the Chainsaw Gumshoe
This story was conveyed by a contractor in attendance at NPME '96. Unfortunately, we can't come up with the name of the person was who told the story. If it's you, let us know so we can credit you for it.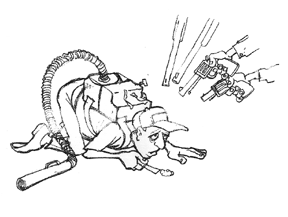 We're very proud of how conscientious our employees are. One night, though, that very trait led to trouble. One of our employees was out running a backpack blower around the perimeter of a center, getting the litter onto the lot where the sweeper could pick it up. So far, standard procedure.
When he was cleaning the sidewalk, there were some spots of gum stuck down on it, so he got down and scraped them up wherever he encountered them. Before he knew it, he was surrounded by law enforcement. A passerby had called in an alert that a 'crazy man was on his hands and knees at the mall with a chainsaw!'
This article is reprinted from American Sweeper magazine, Volume 6 Number 1.