How Not to Make Money
Sent by Dean Davis, Dean's Sweeping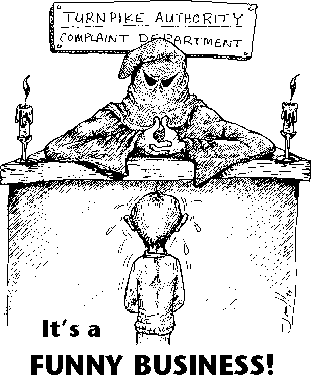 We were recently faced with what seemed to be the ultimate way not to make money on a municipal sweeping job. We were working for the Oklahoma Turnpike Authority. Regular users can get a credit card that allows a car to go through the automated turnpike entrances. The card is placed on the dashboard, and it is automatically scanned when the vehicle goes through.
We had been issued such cards for our sweepers on a special account where we wouldn't be charged. The sweeper operator (me!), however, neglected to put the card into the sweeper. I confess I didn't think a thing about it until the day when we got a bill for 27 tickets -- at $90 each!
When no card is found to be scanned on the dashboard, a camera takes a photo of the license plate and they are ticketed via the mail. I thought it would be easy to straighten this 'problem' out, but the first person I talked to about the whole situation ("We're working for you, sweeping your turnpikes," I told her.) listened patiently and responded crisply that "It doesn't matter. You went through there without a card and you're going to pay for the tickets, that's all there is to it."
Since the $2,430 total was more than enough to send my profit on the job out the hopper, I persevered. It wasn't until I worked my way up to the Turnpike Supervisor, however, that I got the response I expected, a hearty laugh and cancellation of the tickets.
This article is reprinted from American Sweeper magazine, v3n3.