Zoe was one lucky dog!
reported by the BBC, November 28, 2001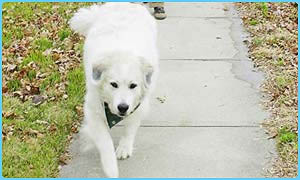 A dog in America had a narrow escape when she was swallowed up by a street-sweeper.
Zoe the Great Pyrenees ran straight at the huge machine and promptly disappeared under it. Her owner Gene Fee, from Missouri, feared the worst, and went home thinking that was the last to be seen of her pet.
Driver to the rescue
But truck driver John Reutter, who'd been behind the sweeper, called for help.

And, when the operator had a look inside the sweeper, Zoe was there amongst the machinery looking up at him. He said she was "stuck in a small space, held above the ground."

Ten minutes, six city workers and three maintenance vehicles later Zoe was freed, unhurt but black instead of white. They then called Gene and the two were reunited.

And a vet said all she needed after her ordeal was some painkillers and a good shampoo.

If anyone has further information about this event, please let us know. It would be nice to find out what type of sweeper, what city, etc. The story seems a bit far-fetched, however was taken from the news.bbc.co.uk website.