Perth Zoo elephants to show off enrichment toys for World Elephant Day keeper talks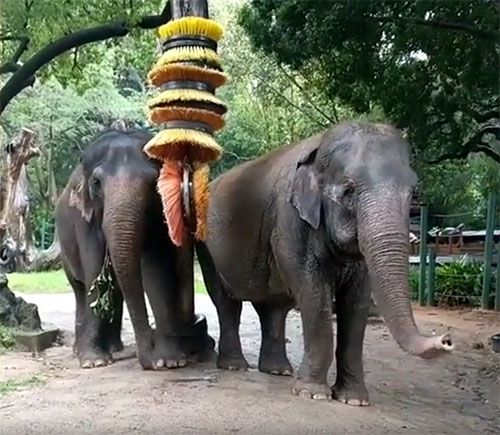 Caring for the trio for about 17 years, senior elephant keeper Steve Edmunds said enrichment was provided to many animals at the zoo but was a particularly large part of his job. "We are always looking for new items for the elephants, being so intelligent they require enrichment and it is a large part of our job to keep them busy and mental stimulated," he said.
"The street sweeper brushes are use to hide food and play games but have the added advantage of being a satisfying item for them to rub against. Often we will see the elephants pushing the brushes onto their backs and wiggling around, giving themselves a good scratch."
Mr. Edmunds and his team will be running free elephant keeper talks as part of World Elephant Day on August 12. Wild art and kid's face painting will also be available for a gold coin donation, with funds used to support the protection of wild elephants.
If you can't view the one-minute video embedded below, you may use this link to view the video on YouTube.
Have you come across a funny story that involves sweeping? If so, please let us know!