Mechanical Broom Cores Rub Cows the Right Way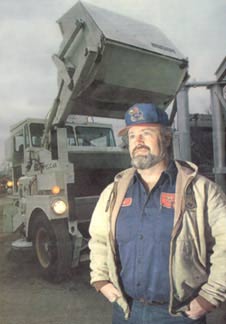 Rick Grant has been driving a sweeper for the City of Lawrence, Kansas, since 1985. Along with his dad, he's also the owner of a cattle farm. One day in 1986, Rick got the idea that the used mechanical broom core that had just come off his sweeper might help to solve a problem that he and many farmers have - how to get their cows to quit rubbing on buildings, farm equipment, fences and anything else they can find in order to get a good scratch. Rick took the broom core home, and the result is why many farmers around Lawrence now have scratching posts made from mechanical sweeper broom cores.
"I put the first one out in the field on a 4 x 4 post," said Grant. "It didn't take long for the herd to discover it and figure out what they could use it for. Next I hung one up so they could walk under it. The cows loved that one, too. Now I even have two that I put together vertically with a space between them such that the cows can walk through them and get scratched from both sides. Then, above the space between the brooms I placed a pesticide rub bag that contains a powder that keeps flies at bay in the summer. It's something that we want them to rub on, and positioning it between the broom cores does the trick. It's put at a height such that the bag naturally rubs on the cows' backs when they walk between the brooms."
Other farmers in the area noticed the new scratchers, and inquired about getting them for their herds, too. Since the city needs to get rid of the cores, the Lawrence Sweeping Department was glad to oblige. "These days, there are mechanical broom scratching posts scattered all around Lawrence," said Grant. "I've also offered them as a gift for area farmers who allow me to hunt on their property. We're always needing to get rid of the cores. It's nice for me to be allowed to hunt, and everyone likes having the brooms for their herd. Without something to scratch on, cows will rub marks onto the sides of buildings and farm machinery. They also stretch out barbed wire fences by leaning against them to scratch themselves on the barbs. These mechanical broom cores work great to stop that from occurring.
"The first one I put up at our place is still there, and it's now 13 years old. The broom bristles were about 6 inches long when I installed it, and now they're worn down about halfway. Although that particular broom was long ago bleached by the sun and our harsh winters, it's still in good shape otherwise and looks like it'll last forever."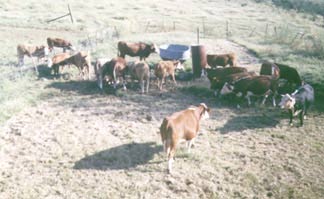 This article is reprinted from American Sweeper magazine, Volume 7 Number 1, 1999.
---
Thanks to Rick for the most unusual recycling idea we've ever published. If you have an idea that might make a good Helpful Hint for others in the industry, please let us know. You, too, may find yourself on the pages of WorldSweeper.com!