Preventive Maintenance Software x 2
---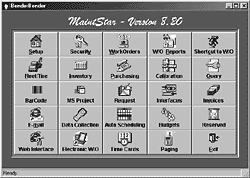 Product information provided by MaintStar
It's a constant challenge to keep a business and its equipment up-and-running. Too often, you find yourself in a daily battle just to keep track of what needs to be done to maintain your equipment in good working order. MaintStar is a computerized Maintenance Management software program that allows users to keep a complete record of all their equipment, including vehicles, work orders, parts and more. MaintStar also keeps tabs on equipment repairs, as well as tracks downtime, fuel costs and labor. As a result, users know what their total cost is to run each of their vehicles. With MaintStar, preventive maintenance schedules can be set up, so your equipment can be kept running at the peak of efficiency, and major breakdowns can be prevented.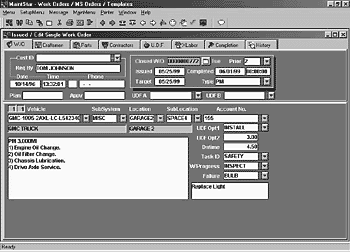 MaintStar is easy to learn and easy to use. It is made available in modular components, so users can purchase only the segments that fit their needs. For example, MaintStar has modules that can maintain your inventory records and handle your purchasing needs. MaintStar can work with your e-mail, and can be interfaced with bar code readers, as well as the hand-held Palm Pilot units, to record information in the field. In the latter usage, with the push of a button, you can upload the information back to the computer in your office. MaintStar's optional modules include Inventory Control, Purchase Order, Fleet Maintenance, Invoicing, Tire Tracking, Labor Scheduling, Time Card, and interfaces called Data Collector, Email, Fuelman, Web, and Palm Pilot.
You'll find MaintStar offers a complete solution to all your maintenance management needs. It is a full-featured program that will save you time and save you money. MaintStar will also help you simplify your daily operations.
For more information on the MaintStar program, call Bender Engineering at 1-800-255-5675 for a free demo copy, or visit their website at www.maintstar.com.
---
[Top]
---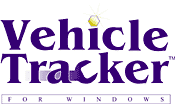 Product information provided by Squarerigger Corporation
Squarerigger Corporation is a pioneer in fleet management software, with over 15 years in the industry. Vehicle TrackerTM is the name of Squarerigger's new vehicle maintenance software package. The program, which is Windows-based, includes an easy-to-use graphical user interface, and features menus and data entry screens that are logical, uncluttered and simple to use.
Vehicle TrackerTM enables owners or fleet managers to electronically track and analyze work orders, fuel, parts inventory, preventive maintenance, tires, labor and customer billing. The optional Repair module handles work orders, work pending, services performed and downtime. It can bill out work orders and print cost per mile (CPM) reports. The Card Lock Integration module allows the importation of most card lock and outside fuel transactions. A Parts Inventory module tracks parts from the purchase order to real-time Work Order usage. It supports different units of measure for the same part and, if a replaced part is under warranty, it sounds an alert and automatically generates a Return Merchandise Authorization (RMA).
The number of preventive maintenance (PM) reminders per vehicle are unlimited and flexible, allowing scheduling by day, miles, hours, kilometers, etc. Meter rollovers or replacements are automatically adjusted to keep your PM's on track, and cascading PM's eliminate possible duplication of services. For example, throughout the life of a tire, the Tire module can track the tire's cost per mile, tire cost by 1/32 inch, by vendor, and as retreads. The program will even track a tire's position on the vehicle.
Vehicle TrackerTM can track warranty history on individual parts, automatically replenish inventory, track mechanical labor and outside work, print service procedures and maintain data on drivers, mechanics and other workers. The program comes with over 100 built-in reports and provides a myriad of reporting options. These data can be tracked by vehicle, by day, by hour - whatever might be the best for the user's organization. A sampling of reports includes: next PM due, service cost analysis, labor cost analysis, MPG report, cost per mile report, meter change history, inventory level and valuation report, inventory reorder report, and work order summary. The program comes with a complete list of Vehicle Maintenance Repair Standard (VMRS) codes and can track all repairs and parts by VMRS numbers, with or without users' codes.
The system is highly customizable, very intuitive and easy to learn. Parts and labor, for instance, can be marked up for every customer by either percent or amount, and individual parts can have individual markups. Many defaults can be changed simply by selecting a 'yes' or 'no' radio button. And, if questions arise, the online help function is always available. Individual users can create their own default settings, and these may be selected at any time. Also, Vehicle TrackerTM can be customized for use in multiple locations.
Squarerigger programmers have included a number of 'Kwik' helpers. These include KwikQuestionTM, KwikBuyTM, KwikCheckTM, and KwikAddTM. Kwik QuestionTM, for example, allows users to type in questions in plain English, such as "How many gallons of fuel did my fleet use in January?" The program then compiles the exact report you need. KwikBuyTM is an easy way to track parts needed that weren't in stock. It will automatically generate a purchase record, then show receipt of, and installation of, the part. KwikAddTM pops up a fill-in form that allows for the fast entry of equipment data, personnel or facilities.
Vehicle Tracker also can be configured to run completely paperless. In this mode, mechanics can enter Work Order information on an Electronic Work Order, instead of using the traditional paper form. A rugged, battery-powered, hand-held computer integrates point-and-touch technology with barcode data capture and wireless RF communication. The Barcode module can work in conjunction with the Paperless Shop module to print - directly from the Purchase Order module - barcode labels for ordered parts. Technicians may optionally attach barcode labels to Work Orders at the time of part usage or, if preferred, parts labels may be scanned using a variety of barcode equipment.

Vehicle Tracker requires Windows 95/98 or NT 4.0. The price of the package starts at around $800 and runs up to several thousand, depending on the number of modules, vehicles and users. A live copy of the software is offered on a 30-day trial basis. For more information, go to www.squarerigger.com or call 1-800-677-3139.
---
[Top]
This article is reprinted from American Sweeper magazine, Volume 7 Number 2, 1999.