North American Power Sweeping Association Seminar on Employee Management
by Ranger Kidwell-Ross: dateline 9/11/01

As I write up the following story, we are in the midst of perhaps the greatest tragedy in American history -- certainly the greatest in my 51 years -- the terrorist attacks on the WTC and the Pentagon. The flight that crashed in Pennsylvania did so only 100 miles from where I'm currently stranded here in Philadelphia. Although at the moment this information on recruiting, retaining, and otherwise dealing with employees pales in comparison, you'll find that the story contains a host of useful information you'll be able to consider for use in your own company.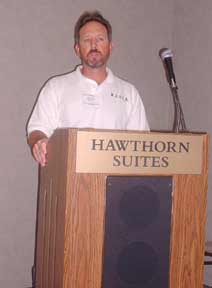 The story is based on notes taken during the NAPSA-sponsored seminar presented by Mark Carter, (right) head of southern California-based Bill's Sweeping, with assistance from Gabe Vitale, (below) owner of New Jersey-based C & L Sweeper Service. Both of these men have operated their respective sweeper companies for many years and are among the leaders of the U.S. sweeping industry.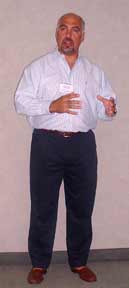 Part one covers Carter's approach for running an ad for employees, as well as the initial screening and hiring process. Mark said his approach, when running ads for sweeper operators, is to run a generic ad that "is designed not turn off" possible employees. In the ad, he includes the fact that the job includes benefits, has paid training, offers overtime, and that the workplace is drug-free.
His intent is to encourage any possible candidates to at least give the company a call. One thing that makes this approach possible is that Bill's Sweeping has a recorded message prospects get when they call in. By putting an answering machine onto one of their extensions, the company is able to provide prospective callers with all the specifics on the job, including all the requirements and any possible negatives, without any involvement from current employees. The message includes general information about the job, a re-statement that the company is a drug-free workplace, that successful applicants must be able to communicate in English, a requirement that all employees must live within 15/20 minutes of the company location, information about working hours, the job description, and any other specifics they deem necessary. This system gets the initial screening done by machine, not by someone in the office.
The next step, which takes place with the people who are still interested, is to have them call the company back to arrange for an in-person appointment. Then, when these second stage applicants come in, they are asked a series of specific questions that have as intent, once again, to screen out those who are unsuitable. Emphasis is placed on where they live, any physical reasons they couldn't perform the job, or if they have an unacceptable driving record. They use a questionnaire, and specific questions, so they can compare the information, over time, with that given by long-term employees during their interview. This helps them to develop a profile of the perfect employee. Some of the questions asked include:
Height/weight? Because his company primarily uses Mobiles, which have small operator areas, typically, anyone over 6' 3" or over 240 lbs. won't fit.
What city do you live in? Company management has learned that if a sweeper operator lives as much as 45 minutes away, the burnout rate is high.
Included are a couple of physical fitness questions. One is: Can you shovel dirt for 2 hours? The intent is to know whether there are pre-existing back or other physical problems that will be aggravated by physical labor. Another question is: Can you get out of a 6'-tall trash bin? That question is designed to determine whether the applicant will be able to get in and out of the hopper if the need arises.
A question is asked about car ownership, because the company wants all employees to have a car for transportation. At this point, the applicant is also asked about his/her driving experience, specifically to tell them about the last accident they were in or ticket they received. There is a two-fold reason for this. One is to see what the person discloses in terms of moving violations, suspensions, etc. Sometimes they've found that prospects tell them things that don't end up being in the official DMV printout that is required further along in the hiring process. The second purpose for this question is it's a topic that tends to get the people talking, so it's easier to determine their level of proficiency in speaking English.
If an applicant passes this portion of the interview process, they're invited to come back for a personal interview. Prior to this interview, the applicants are given a check sheet that re-states the requirements they were first given the phone. In order to keep this proprietary information from being photocopied, Carter has it printed on red paper.
At the personal interview, applicants must bring a DMV printout showing their driving record over the past 10 years, and when they arrive they must fill out the company's actual work application. This asks for work history for the past decade, as well. The company requires this application to be filled out on their premises, because that provides a way to determine the applicant's level of literacy. Mark said they've also uncovered applicants with dyslexia at this stage, too, a condition they've learned can lead to problems in map reading and following driving directions.
The written application also requests business references, so the reasons for leaving previous jobs may be checked. Personal references are included so there's a better chance to get back keys, uniforms, etc., in the event the employee is hired and then quits at some time in the future.
The portion about previous employers also includes the questions: "How much notice did you give?" and "What will your previous employer tell me about you when I call?" These answers are a clue to the notice Bill's Sweeping will get if the employee eventually moves on, and the kind of relationship the person had with their previous employer. "If they describe problems they've had with someone whose management style is just like that of the person they'll be working for at my company," said Carter, "then that tells me they probably won't be a good fit here, either."
If everything looks good to this point, Mark said that he sits down with each person for about 5 minutes, in order to get a personal feel about them. He then asks the applicant to call back at a particular time, within a 1-hour window, to give the person an opportunity to show they can follow instructions.
If the person passes to this point, when they call back they are asked to come in for a second interview. For this second interview, the applicants are provided with a list of specific items, not just the directions of where to go. They have a specific place for the person to park, the exact time to arrive, etc. These are, again, very specific, so that it can be further determined if the prospective employee can follow directions or not.
Prior to actually hiring someone, the company requires that the prospective employee take -- and pay for out of his/her own pocket -- a drug screening test. These are about $40, and the fact that the applicant must pay for it initially drops out some. This is true even though if they pass the screening Mark's company will reimburse the drug screen cost whether or not the applicant is hired. Finally, once the person passes the drug screen they're put into a pool of prospective employees who are called on when new people are needed.
(By the way, when a poll was taken of the sweeper operators in the room, about 80% said they currently have a drug-testing program in place.)
When current employees fail a subsequent random drug test, Carter said his company suspends them from work for 30 days and then lets them re-test. It was noted that hiring people who are currently on parole can actually be an advantage in this area because they already get tested for drug use twice a month.
One important reason cited why it's important to do a proper amount of due diligence with employees is so that, in the event of a catastrophic accident, the resulting lawsuits will remain civil cases rather than becoming cases of criminal neglect.
Our next installment of this seminar will cover other aspects of the hiring process, as well as ways to find good employees, retention ideas, steps to follow when firing, incentive and motivational ideas, and training tips.
---