| | |
| --- | --- |
| | Sweeping From a Visitor's View in Scandanavia and Russia |
As principal in a sweeper manufacturing company, when Masco Sweeper's Mike Dyck traveled he looked for -- what else -- sweepers! We invite you to read for yourself what he saw in his journeys, as well as to take a look at the photos of sweepers while there.
by Mike Dyck
I had the opportunity to travel throughout the Scandinavian countries of Sweden, Norway and Denmark, as well as to Finland and through Russia to St. Petersburg. I was touring with a large group, which gave me time to focus on things other then driving. I have been in and around the sweeping industry for more then 30 years and I have always been interested in how people sweep their streets in different countries. I was lucky in that I was able to photograph sweepers in every country I visited.
I know that we are all struggling with the high cost of fuel in the United States. However, when you are in Europe spending almost $8.00 a gallon for gas it puts the world fuel economy in perspective. For the most part, the sweepers I saw were simple machines that were towed behind specialized vehicles or tractors.
European streets, alleys and small ancient roads require cleaning equipment to be more versatile then what we experience here in the US market. Because of the uneven and narrow roadways, unusual road material such as cobblestones, and high traffic, these sweepers seem to be the best all around way of keeping things clean. Many of you who have attended APWA shows will have seen some of these sweepers shown there and maybe there are cities in the US that use them. However, I was not aware of any of them except for the Johnston sweepers I saw in Stockholm, Sweden and Helsinki, Finland.
Everywhere we went the roads, streets and parking lots were clean. European methods of municipal employment ensure there are enough people to keep public areas clean and well taken care of.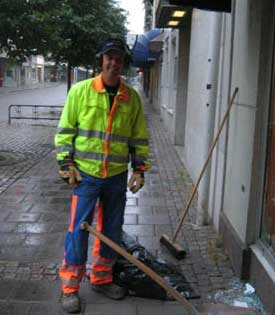 While in Upsalla, Sweden I had an opportunity to meet the local street sweeper guy outside of my hotel while taking my usual early morning walk. His name was Jan (pronounced "Yahn") and he was a really great guy. He took the time to let me interview him to find out what his job was like in Sweden.
I knew that many of my customers and readers would be interested in what it is like to do this job in another country. In Sweden, as some of you may know, the government pays for complete medical and health care needs. In addition, most employees get a very good vacation package that can be up to two months a year. Most all get at least one month.
Jan told me that his pay was around $38,000US per year and that he paid about 30% taxes. His work week was 35 to 38 hours per week and he got about 6 weeks of paid holidays (vacation) per year. He seemed to enjoy his work and enjoyed sharing this information with me.
The most interesting sweeper was the one I saw in Russia, outside of St. Petersburg. I was in St. Petersburg for three days and had not seen a street sweeper other then people using a hand broom and cart cleaning sidewalks and street gutters. On the way out of town, though, I was lucky to get a photo of a sweeper from my bus.
This sweeper was a converted dump truck fitted with curb broom, conveyor, and main broom. The machine dumped the debris into the dump truck and then I assume was somehow able to dump the debris onto the ground. Because I was not able to see it for more than a split second I was not able to really evaluate how it worked. I really appreciated the simplicity of it, just in the moment I got to see it, and wish there was a way to know more about it.
If anyone knows anything about unusual sweepers, or knows more information about any one of the sweepers I took pictures of, please email me at mike@mascosweepers.com. Mike Dyck
Masco Sweepers



© 2006 - 2013
Used Sweepers of America
All Rights Reserved.World Sweeper
All rights reserved.