| | |
| --- | --- |
| | Ten Hako Citymaster 300's Support Newly-Formed 'Team Work Concept' in Street Cleansing Hamburg |

June 15, 2005
Mechanisation of manual jobs is amongst the most promising strategies in order to increase performance considerably and, at the same time, achieve marked quality improvements. In tests carried out precisely and over a long period of time, the City Cleansing Department, Hamburg Central Region, established whether the outdoor cleaning machine Citymaster 300, from the Bad Oldesloe-based company Hako-Werke GmbH, was capable of considerably reducing the manual share when sweeping footpaths and open spaces. Over several years the Hako Citymaster 300 was tried and tested in all kinds of situations. It passed the difficult tests with flying colours. Now ten units of the new Citymaster 300 will be systematically used in a test area in order to show that the expected increases in efficiency can actually be achieved.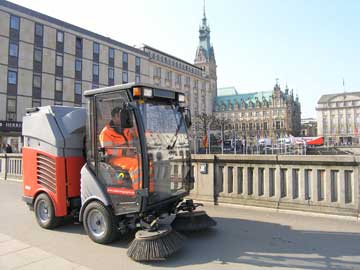 "With the ten new Hako Citymaster 300 we are switching from the mainly manual sweeping on footpaths and open spaces undertaken to date and converting at the same time to machine supported team work," stresses Guenther Rademacher, Disposal Director (Works Manager) Central Region and explains: "From now on the Central Region will be looked after by ten groups. Each group has been assigned a Hako Citymaster 300, a large sweeping machine, as well as a small lorry that can transport machines and debris. Five refuse operatives manually sweep debris from areas difficult to access by machine into the path of the cleaning machines. Savings of 15% result from such a structure, felt over the whole of the Central Region. In the Central Region -- one of a total of five regions -- we are trying out this special form of team work in order to test whether the necessary increases in efficiency can be achieved with this working method in all Hamburg. It is important that the citizens of Hamburg are aware of the quality improvements and that these improvements remain self-financing for them."
In order to ensure that these goals are achieved, Street Cleansing Hamburg has signed a 'Full Service' contract with Hako-Werke GmbH according to a new model. The basis for this is a new Hako hire concept. Within the framework of this new Hako hire concept, Street Cleansing Hamburg has hired the ten Hako Citymaster 300 machines together with a 'Full Service' contract for three years. The 'Full Service' contract stipulates that Hako ensures 100% availability of the ten Hako Citymaster 300.
For further information please visit www.hako.com or send an email to info@hako.com.

This information was provided by the Hako-Werke GmbH Press Department.