Street Sweeping Matters at Australia's Southern Downs Council

adapted by Ranger Kidwell-Ross from an article originally published in the Warwick Daily News

What municipal organization hasn't, at some point or other, fielded questions from citizens about why sweeping is taking place? When that occurred with Australia's Southern Downs Regional Council, the operator of the Council's sweeper took action to set the record straight. Taking the approach of providing documentation about the value of street sweeping is a great way to provide positive outreach and learning to your constituents.
"Street sweeping is a vital operation that many residents take for granted."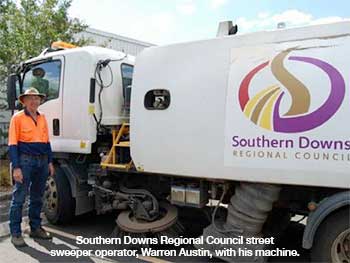 So says Southern Downs Regional Council's street sweeper operator, Warren Austin. When the Council's street sweeping activities came under fire from a couple of Southern Downs residents in late 2015, the sweeper operator provided some analysis – and numbers to back it up – to counter those in the area who claimed there was no need for the sweeping works to be done in some parts of the region; suggesting that sweeping was simply a waste of ratepayers' money.

Mr Austin begs to differ. In response to these complaints Mr. Austin said street sweeping is of paramount importance. "Most residents would be completely unaware that, just in our northern part of the Southern Downs region," said Austin, Council's street sweeper collects, on average, 21 tonnes of dirt, debris and other material each week.

"There is a lot of fine dust that people don't see that is swept up by the sweeper, and for those people that complain that the streets are clean so why waste money on street sweeping, I would remind them that the streets are clean because we do regular street sweeping."

Austin's investigation showed that, in the 2014/15 financial year, the Council's street sweepers collected about 1,547 tonnes of debris from across the whole Southern Region. Of that amount, around 841 tonnes was collected in the northern part of the region, with the balance of 706 tonnes collected by Council's other street sweeper operator, Mark Rouen, in the southern part of the region.

"Just imagine what our streets would look like if they were left unattended," Austin countered. "The dust, dirt, screenings, cigarette butts, papers, bottles and general detritus would build up and become unsightly. Not only that, but water would be unable to reach the storm water drains because they would be clogged with debris.

"Plus, in addition to the scheduled sweeping routes, the Council also receives a lot of requests from the Queensland Department of Transport and Main Roads to do clean-up sweeping of materials like broken glass, oil, and concrete after spills or accidents." For the latter, he pointed out, the tab is picked up by the state government, not by the Council itself.

"Street sweeping serves a number of important purposes. It keeps our region clean and tidy, which creates a positive first impression for visitors and for residents. Sweeping can also pick up harmful debris and substances that could contaminate the environment if they were left on the streets and made their way into stormwater drains and into our streams and waterways," Austin concludes. We couldn't have said it better ourself.