Before You Get Into Construction Sweeping, Consider...
This long-time construction sweeping pro offers the following to anyone considering entering that segment of the marketplace.
by Mark Carter, president
Bill's Sweeping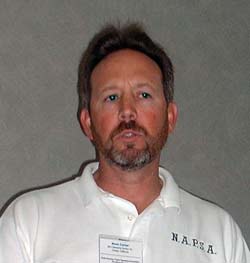 Before you delve into the area of construction sweeping, be sure to do some basic market research for your surrounding geographical area. You'll want to get answers to at least the following:
How big is your potential market?
What is the growth potential?
Who are the players already there?
What are they charging?
A valid assumption is that however many companies you find in the yellow pages, there are probably the same amount again that don't advertise there.
There is always a low price construction sweeping company or two in my area, but I can't tell you their names. That's because they're new. The old low price leaders aren't in business anymore, and they probably lost a lot of money before they got out. The 'low price leaders.' or companies that think 'volume' is the answer to compensate for their low margins, come and go in this market every year.

However companies that charge fair to premium prices are often around for generations. The opportunity for losing money in this segment of sweeping is tremendous, and you certainly can't afford to compound that by being the 'low price leader' for your area.
Despite your best planning, marketing and intentions, your sweepers will sometimes sit idle. For example, it often happens that an all-day job is canceled the night before, or even that morning.
You have to charge a premium for after-hours work, because even if you have only one sweeper out you will still need your support team available for any problems -- which will occur quite often in this type of heavy-duty work.
How do you plan to price out your travel time? If you have traffic to deal with, you could be paying payroll and burning fuel for 1-2 more hours after you leave the job.
If you have a short job in the morning and another late afternoon, what do you do with the 4-5 hours in between:
One driver, two drivers?
Bring the driver into the shop?
Will the driver exceed 12 hours on the clock?
What will this do to your liability if they are involved in a accident?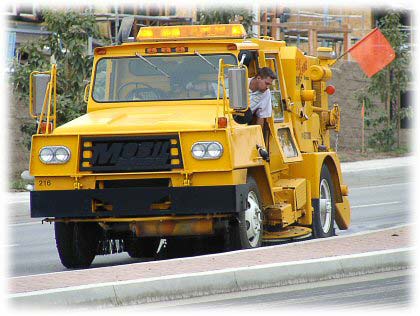 These are all solvable problems, but each and every one are reasons to get paid well.

How do your trucks look? For night work you can rely on the finished product, fancy letterhead and a professional office for your reputation. Are you ready for your trucks to be the rolling billboard of your company?

Will your trucks be legal to operate in your state in future years? Most diesel engines will have to meet Tier II or III in the coming years. Will you be able to re-power or retrofit that used sweeper you are looking at?

It is possible we'll have new workers compensation classifications in the future. If so, segregating payroll will be a must, or the workers compensation program will lump all your employees into the highest classification.

If you do join the construction market, you'll have to adjust your accounting to reflect the incomes and expenses from each of the types of sweeping you do. You will want to know if profits in one area of your business is supporting the losses of any of the others.

If you run air machines, you will be using a lot of dust control water. That water will mix with the dirt and really gunk up the inside of the sweeper. Do you have a place that can handle all the washout water every night? In coming months and years, if not already, regulations in many areas of the country will require you to install a waster water recovery system at your yard. Have you priced properly to cover your infrastructure and the necessary 45 minute daily clean out?

When working for larger companies, read the fine print. Boiler-plate purchase orders or Master Subcontract agreements can run 20-30 pages. Know what you are agreeing to. You can't be afraid to line out items or completely pass on the contract. These companies can, will and do enforce the terms of these agreements. Remember, a rule of thumb is that the larger the company you're doing work for, the harder it may be to get paid in a timely fashion or at all.

Mark Carter heads up Orange California-based Bill's Sweeping, Inc., which was the first sweeping company in California to gain Certified Sweeping Company status from the North American Power Sweeping Association (naPSa). Mark is also a past president of naPSa. You may reach him via email sent to mnc@streetsweeper.com.