Airport Sweeping ~ Contract or In-House?
by Jerry Mixon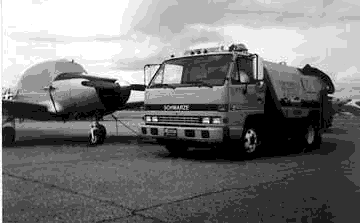 ---
If you're going after this market, get familiar with FOD, FAA regulations, and be prepared to give exceptional service. Special requirements make it hard to get the nod over an in-house unit.
---
Among the wide variety of customers served by the sweeping industry, one of the most specialized and unique is sweeping at airports. To find out just how different the requirements of airport sweeping might be, airport managers around the country were contacted and asked to discuss the problems they face in keeping their airports debris-free.
Litter on airport surfaces is so critical to safe operation of airplanes that they have a special term to describe the threat - Foreign Object Damage (FOD). Large operations may even have a FOD Prevention Director. As you might imagine, an extremely wide range of items can cause problems with airplane operations. These include the sticks, twigs, plastic bags and other materials which might be dropped by food and baggage personnel, as well as the screws, bolts and cotter pins that drop off airplanes. Even sand has a long-term corrosive effect on engines, and serious damage can be caused by animals, which may be sucked into jet engines.
How important is a clean airport? According to Airport Business magazine, the average annual cost of foreign object damage to aircraft and engines reaches $100 million! And Robert Taylor, FOD Prevention Director for American Airlines, reports that their company must change more than 10 tires each day on their aircraft due to damage from foreign objects on the runways.
Some airports suffer more than others simply because of their location. An airport in Groton, CT, for instance, has a particular problem with clam shells. The local seagulls have learned that shells break nicely when dropped from high altitude onto the airport runway. This may be good news for seagulls, but bad news for the airport manager. Then at the other extreme, Bob Nord, Airport Operations Supervisor at Skagit Regional Airport in Mt. Vernon, WA, says that their litter is mostly pebbles and sand because the facility is surrounded by woods and meadows.
Airports also have special problems that require immediate cleanup. Tatom Fisher, Manager of Operations and Maintenance at Gainesville Regional Airport in Florida, told us that clay and mud are sometimes tracked onto the paved runway or taxi surfaces by planes that stray into the unpaved areas. According to Fisher, it can become so hard after drying on the pavement that it may become necessary to chip away the clay by hand with shovels before it can be swept up. The ultimate disaster at an airport - a crash - may cause hours of delay in normal airport operations, and quick and thorough cleanup is essential to the resumption of safe operations.
To keep up with the problems, most airport managers find it essential to either own a sweeper or to have a close, on-call relationship with a sweeping contractor. Because the need for a sweep can be so immediate, most seem to prefer to have their own sweeper. That way it is available at all times, for routine maintenance of the airport facility as well as for emergency cleanup. There are also some other requirements which can make it difficult for a contractor to get the nod over an in-house unit.
Any sweeper that works within the operations' area of an airport is subject to some special considerations. Safety is probably the most important responsibility of the airport manager, and any sweeper must meet the manager's safety criteria as well as be equipped to meet the requirements of the Federal Aviation Administration (FAA).
For example, a rotating amber beacon is required by FAA on any vehicle in the operations area. In addition, the vehicle may be required to be painted chrome-yellow for visibility. The sweeper must also be equipped with a two-way radio for communication with the control tower in order to get clearance to enter taxiways or cross runways.
At Muscle Shoals Airport, Alabama, which operates without a control tower, airport manager John Lehrter tells us that an advisory notice is given to pilots on their radio when a sweeper is within the operations area, whether on the ramp, taxiway, or runway.
Sweepers at airports are commonly fitted with a magnet bar that runs the width of the bumper. The bar is positioned close enough to the paved surface to pick up objects containing iron. Aluminum and stainless steel objects do not respond to the magnet, but are picked up like other litter with the sweeper. Fisher, at the Gainesville airport, outfits all his ground equipment vehicles with magnets so they are doing cleanup duty as they go about their normal business!
To ensure safety, driver training is given a high degree of emphasis. Certified drivers are given a written test to be sure that they are familiar with the markings and signs used at airports. They must also become familiar with airport radio operation and understand the directions and terms used by control towers.
Security is also a factor. At larger airports, sweeper drivers may be required to have a security background check and become trained in security procedures. Personnel I.D. cards are now often key cards that allow access through gates.
The combination of these factors can make it tough for contract sweepers to be competitive in getting airport accounts. Their sweepers would have to be specially equipped, perhaps painted, and be operated by drivers with special credentials and qualifications. It was also the consensus among the airport managers we talked with that a response time of no more than an hour is preferred.
One possible alternative is to make the sweeper available on a scheduled and emergency basis to a driver who is already certified and in the employ of the airport.
Although that option eliminates the need for the contractor or one of his drivers to complete the necessary steps for certification, many sweeper owners have an understandable reluctance to allowing what is essentially a part-time driver to operate their sweeper.
In any event, there is still an additional investment in special equipment for the sweeper itself. Besides the special equipment including paint, a radio and a magnet bar, there might also be a significant increase in insurance rates for doing work within the operations area of an airport.
Managers did cite what they considered to be the advantages to using a contract sweeper. For one, they wouldn't then be responsible for maintenance of the sweeper, nor would they have to worry about disposal of the litter. Perhaps most importantly, the airport would not have to bear the burden of the initial cost of buying the sweeper.
Several managers reported that disposal of litter is not a problem since most of the debris consists of dirt, sand and pebbles. Tom Williams, the Executive Director of Meridian Airport Authority in Meridian, Mississippi, said that the capital outlay for a new sweeper is not always a problem either.
Because the FAA requires that airports certified under Federal Aviation Regulations (FAR) Part 139 be kept clean for purposes of safety, the FAA also provides grant funding for the purchase of equipment. This is a boon to small airports, in particular. The Meridian Airport Authority was able to obtain 90% of the cost of their Schwarze Supervac 346-I sweeper through an FAA grant.
Williams explained that money for the program is gathered by the FAA through a 10% tax on airline tickets nationwide. It's comforting to know that the purchase price of our tickets includes money to be used to keep the airports clean and avoid damage to the engines of the aircraft in which we may be riding!
Meridian Airport was able to arrange the balance of the money they needed for a sweeper with a grant from the State of Mississippi Department of Transportation. The happy result was zero capital outlay for the airport authority. Williams suggested that other airport managers might find it worth the time to check with their state agencies to see if similar funding is available elsewhere.
Another possible source of funding for sweepers is available to airport authorities. A 'passenger facility charge' of up to $3 may be added onto tickets by any airport, as long as the revenue is spent on FAA approved projects. Managers interested in such funding should contact their FAA Airport District Office for confirmation that they, indeed, qualify.
The sweepers in operation by those interviewed for this article ranged from a newer Schwarze S-series in Meridian, MS, to a government surplus International Harvester FMC 707 at Mt. Vernon, WA. Regardless of the type of sweeper available to them, however, all of these airport managers put clean runways, taxiways and ramps as one of their highest priorities in ensuring the safety of the aircraft and passengers they serve.